Compare Shipping Rates
COMPARE DISCOUNTED COURIER RATES AND CHOOSE THE BEST PRICE, ALL IN ONE PLACE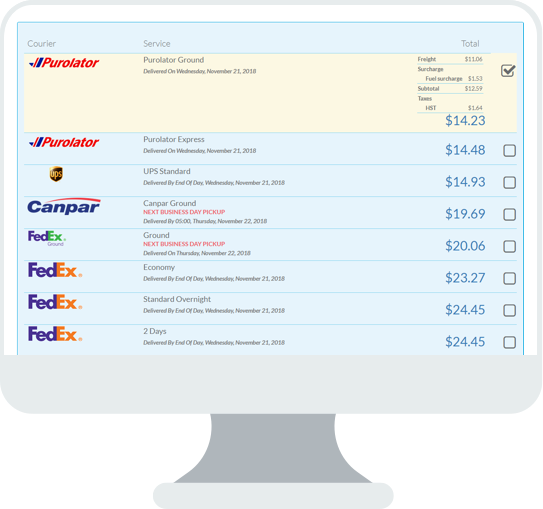 No one wants to pay too much for shipping, but finding a cheap and reliable option can be time consuming (not to mention frustrating). But not when FlagShip has done the shopping for you! Similar to the way you might use an online travel site to find a discount vacation, now you can compare shipping rates and save money for your business.
How to compare shipping rates: Simply log in, enter your shipment information and compare shipping rates from dependable brand name couriers all on one convenient screen.
Need it there fast? Easily identify the delivery dates and range of services available including express and expedited shipping.
Just looking for the best deal? Our rate shop system will highlight the best value option at the top of your page!
Way more than a rate calculator: Once you've found a great rate, you can process your shipment and print your shipping label with just a few clicks. Plus: manage all your shipping activities like tracking shipments, scheduling pick-ups, storing key shipment information and more!
Go ahead, give it a try!
Create your free login now to compare shipping rates for yourself.
SAVE UP TO 70% ON YOUR SHIPMENTS
We work with these leading courier companies to secure volume discounts and pass the savings on to you!

Calculate and compare discounted rates from Canada's leading couriers like Purolator, UPS, FedEx, DHL, Canpar and GLS
all one one screen
Getting you back to business
Our approach to shipping makes it possible for your small business to save time and money on your entire shipping process – from ordering supplies to tracking the status of your shipment. Our rate comparison screen is designed to connect you quickly with the best selection of shipping prices and services so you can stay focused on your business. Our online shipping system is backed by an expert team ready to help with any questions you may have.
Give us a call anytime – we'll take care of your shipping concerns and get you back to what matters most for your business.
1-866-320-8383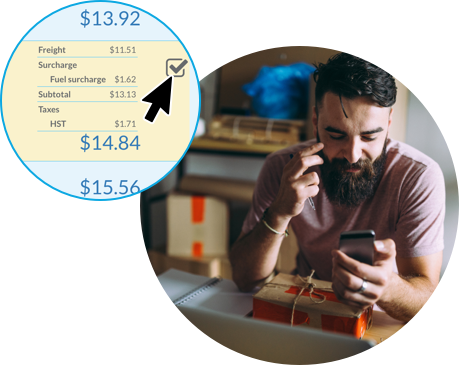 Create your free account to start comparing rates or to process a shipment: