Shipping Carrier Discount Rates

What is a shipping carrier? 
Many small to medium-sized businesses across Canada are seeking a credible and cost-effective shipping carrier as part of their business success. Essentially, a shipping carrier, at its most basic definition, provides transportation services for goods from point A to point B. Delivering products from one location to another. 
Shipping is a critical part of a company's success; getting products and other shipments to customers on-time, damage-free and at a good price is fundamental. It is important to choose a reliable shipping carrier to make sure your goods are being transported safely and efficiently to your customer. That is why FlagShip only works with top shipping carriers like Purolator, UPS, FedEx, DHL, Canpar and GLS. Whether your shipments are going across town or to another country, we have the shipping solution for you.   
What to look for in a shipping carrier?
A reliable shipping carrier will ship your goods efficiently and make sure your goods arrive in good condition.  But there are other service offerings and features that you should consider: 
Cost

:

 

Shipping costs can add up. Whether you're shipping to another city or to another country, 

make sure you are getting the be

st price to help lower your shipping costs. 

 

Ease of quot

ing

 and processing shipments

:

 Time is money so don't waste your time and 

make sure to choose 

a shipping system that can provide you 

with an accurate 

quote 

while making it easy to process the shipment for delivery.

 

Tracking shipments:

 

To 

give yourself a peace of mind, make sure the shipping carrier has a reliable way to track your 

shipments,

 so you know

 the status of your shipment 

every step of the way.

 

Insurance: 

Although accidents 

can happen, it is important that the shipping carrier you choose knows how to handle a damaged or lost shipment. The shipping carriers that 

FlagShip

 partners

 with offers up to $100.

00 in insurance

 while 

FlagShip

 offers a high

ly

 competitive 

in-house insurance option

 to protect your shipment from loss or damage

 and ensure that any claims 

required runs as smoothly as possible.

 

Support

:

 Whether you have shipping questions prior to getting a quote or questions on your shipment after delivery

, make sure the shipping carrier service you use can provide you with the support you need. There is nothing more frustrating than having an issue

 

with a shipment while having no support from the shipping carrier you used.

 
Why FlagShip?
Not only do we offer a reliable and efficient service, we offer affordable shipping rates from leading shipping carriers – all in one place! As one of Canada's top authorized shipping resellers, we negotiate the shipping carrier discounts and pass the savings on to you. There is only one phone number to call, one consolidated invoice, live customer support (even after hours!), and the latest in technological innovation. If your online store needs an easy way to ship, you've come to the right place. All you have to do is login to your free FlagShip account and start shipping efficiently so you can get back to what's important and that's running your business.
For assistance, call us at 1-866-320-8383
It's as easy as it sounds
Shipping with FlagShip is similar to the way you might purchase a discount vacation from an online travel site. To begin, simply create a free FlagShip account, then enter all the key information for your first shipment such as destination, size and weight. Our online shipping system will provide you with a comparison of shipping carrier discount rates, service options and expected delivery times from our lineup of couriers such as Purolator, UPS, FedEx, DHL, Canpar. and GLS. Then the choice is yours: pick the cheapest rate, your preferred courier, the fastest delivery time. All your options are presented on a single screen making it easy to compare and choose.

A

SAVINGS OF UP TO 70%

ON YOUR SHIPMENTS
Save time and money on all your shipping needs with volume discounts from couriers you can trust

Within Canada
FlagShip's close relationships with leading couriers like Purolator, UPS, FedEx, DHL, Canpar and GLS give small and medium-sized business access to cheap shipping rates within Canada.

International Shipping
Shipping across the border and overseas has never been easier. FlagShip gives you access to discounted international shipping rates from trusted carriers like Purolator, UPS, FedEx and DHL.

Way more than a rate calculator
We believe there are 3 ingredients to a great shipping experience: an easy process, reliable services and cheap shipping rates. We've put all of these together into one easy-to-use online dashboard where you can compare shipping rates from dependable brand name couriers all in one place. Our online shipping system allows you to book your courier, print your shipping label and track your package all with a few clicks.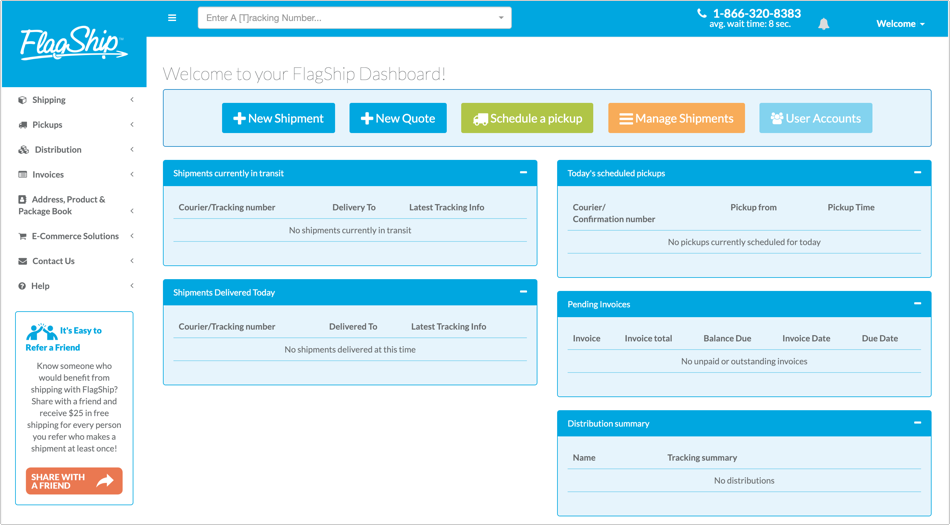 Instantly compare shipping rates or get a quote for an oversized shipment
Automatically create compliant shipping labels and schedule pick-ups
View transit times and real-time tracking information
Store key shipment information to save time on future shipments
Receive one consolidated invoice for all your shipping activity
Integrate your FlagShip account with your e-commerce store