Cheap shipping
Quebec City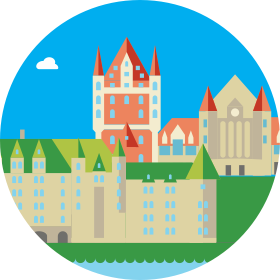 Hassle-Free Shipping For Quebec City Small and Medium Businesses
Quebec City shipping – for your business – made simple
For your Quebec City business, shipping is a necessary cost. But that doesn't mean it has to cost you a lot. FlagShip can save you money and add to your bottom line … with every courier shipment – saving you up to 70% on your shipping.
That's because you can instantly compare the services and rates of the leading couriers – Purolator, UPS, FedEx, DHL, Canpar and GLS– all in one place. You don't have to visit multiple sites to find the information you're looking for. You don't have to pay too much if you don't have time to shop around. Just choose the rate and service that's right for you and your business.
We don't pick up or deliver packages, your courier of choice does. We simply provide discounts and offer a more convenient way for you to manage your shipping with your courier of choice. At the heart of our service is our online shipping system that is linked to major couriers. It allows you to get the cheapest couriers rates by instantly comparing quotes from leading carriers without the hassle of searching from site to site.

Shipping with FlagShip:
With FlagShip's online shipping system it's easy to compare outstanding rates and services from brand-name couriers, choose the service that's right for you; process, manage and track your shipments – all in one place.
Plus, save up to 70% on your courier shipments!
Quebec City courier service advantages when you ship with FlagShip:
Compare rates for leading couriers – Purolator, UPS, FedEx, DHL, Canpar and GLS
Access to the FlagShip online shipping system
Additional insurance coverage at $1.25/$100
Save with no pick-up fees
Email tracking and delivery notifications on every shipment
Easily print your shipping labels
Is FlagShip right for your Quebec City business?
If you ship anywhere from 1 shipment per month up to 40 shipments per week discount shipping is perfect for your business. Getting a quote is easy – all we need is a regular shipping location including the pick-up and ship-to postal code/zip code, size and weight of the parcel, as well as the type of service required and we will show you your instant savings!
Looking for other shipping solutions?
In addition to our discount courier program, we offer many other services.
Customer Service
We value our customers, understanding their shipping needs whether it's a few times per month or several shipments a day. Our customer service reputation has made us the best valued online shipping solution in Canada over the years and that may explain why, for over 5 years in a row, we are listed on the TOP 500 fastest growing company in Canada.
How to get started
Sign up for your no-obligation, no minimum account – it's free and you can get started now!
Have questions or would like a quote on Quebec City shipping services? Contact us at 1-866-320-8383 or email
sales@FlagShipcompany.com