Discount Shipping
How discount shipping with FlagShip can save you money, and time
When you don't ship very often, it's hard to take advantage of volume discounts. But as a small or medium sized business, you deserve a good deal, just like the big guys. FlagShip is one of Canada's leading discount shipping solutions, offering services to small and medium sized businesses, like yours. You want and need savings, a range of services and great customer service. Our goal is to bring all of that to you, making it EASY for you to ship your products and packages, and save money at the same time.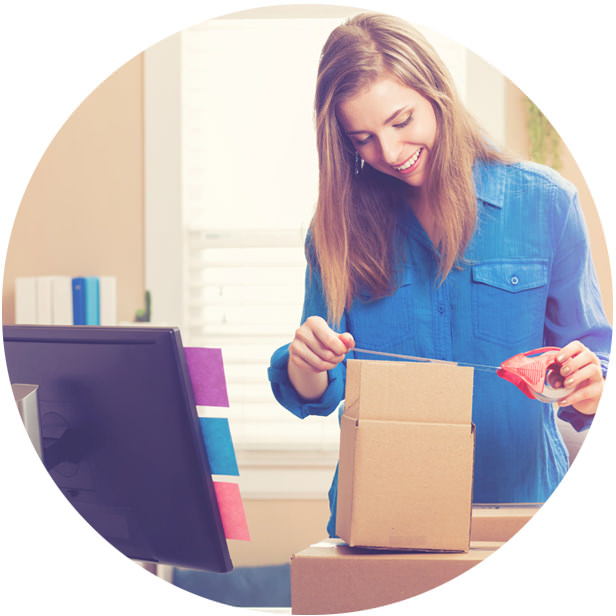 What is Discount Shipping?
FlagShip is an authorized shipping reseller. We work closely with leading courier companies, like Purolator, UPS, FedEx, DHL, Canpar and GLS to get volume discounts that before, were only available to large, high volume shippers. We take those savings and pass them on to you … so you can save money on your shipping too.
How do I know if discount shipping is right for my business?
Are you a small or medium sized business in Canada?
Do you regularly ship packages monthly, or even weekly?
Do you spend lots of time searching for deals and better rates?
Do you sometimes need help to choose the right shipping services?
Are you looking for a one-stop solution for all your shipping needs?
Do you want to save time and money?
If you said yes to these questions, then FlagShip's discount shipping is right for you!
Five reasons to choose FlagShip today!
When you ship with FlagShip, you can take advantage of:
1
Great savings when you compare the rates and services of leading couriers and choose the one that's right for you.
2
Easy-to-use online shipping system that helps you complete your shipping activities from start to finish. It's secure. It's easy to access from anywhere. And there's no software to download. See how it works
3
All the functionality you need and expect, like storing key shipment information for future use, printing compliant labels, real-time tracking and more.
4
One invoice consolidating all of your shipping activities, no matter which courier … or couriers … you shipped with.
5
A knowledgeable Customer Service team that is here for you, even after hours, to
answer your questions and help you find solutions to your shipping challenges.