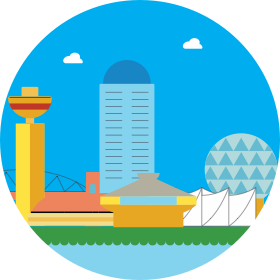 Hassle-Free Shipping For Vancouver Small and Medium Businesses
Your one-stop-shop for Vancouver discount shipping
FlagShip Courier Solutions is one of Canada's leading online discount shipping solutions that helps small to mid-sized businesses save money and time on their shipping. We help businesses nation-wide and have expertise in Vancouver courier and shipping services.
Our convenient one-stop shipping solution makes it easy to compare brand-name courier rates from Purolator, UPS, FedEx, DHL and Canpar on one screen; then choose a preferred courier and service that works for you. It's that easy. Plus, save up to 70% on your courier shipments!
Can you really save money on your Vancouver shipping? YES! A big part of what we do at FlagShip is give small to mid-sized businesses access to the best shipping rates and services available by Canada's major couriers. Sign up for your free account and start comparing courier rates!
We have relationships with brand-name couriers
At FlagShip, we specialize in courier services in Vancouver by using the largest and best known brand-name couriers. Our longstanding relationships with Purolator, UPS, FedEx, DHL and Canpar allow us a volume discount on shipping – passing those savings on to you. We don't pick up or deliver packages, your courier of choice does. We simply provide discounts and offer a more convenient way for you to manage your shipping with your courier of choice. At the heart of our service is a unique and easy to use online shipping system that is linked to the major couriers.

Is discount shipping right FOR YOU? 
If you answer YES below, give FlagShip a Try!
Are you a part of a small to mid-sized business?
Do you regularly ship packages and/or envelopes?
Would you like to compare courier rates and services all on one screen?
Are you looking for an overnight courier or shipping service?
Are you looking for the cheapest rates available for your Vancouver shipping?
Shop for the best brand-name courier rates for your Vancouver shipments – all on one screen!
FlagShip's exclusive, easy-to-use online shipping system links you directly to Canada's leading couriers. With it, you can instantly see a range of Vancouver shipping services, courier rates and costs to meet your needs.
Compare rates for leading couriers – Purolator, UPS, FedEx, DHL and Canpar
Access to the FlagShip online shipping system
Additional insurance coverage at $1.25/$100
Save with no pick-up fees
Email tracking and delivery notifications on every shipment
Easily print your shipping labels
One consolidated bill for all your shipping activities
Easily send and manage shipments to different destinations
Ship anywhere – Canada, USA and international
Is FlagShip right for your Vancouver business?
If you ship anywhere from 1 shipment per month up to 40 shipments per week discount shipping is perfect for your business. Getting a quote is easy – all we need is a regular shipping location including the pick-up and ship-to postal code/zip code, size and weight of the parcel, as well as the type of service required and we will show you your instant savings! Learn more about cheap shipping Vancouver and cheap courier service Vancouver – click here!
Looking for other shipping solutions?
In addition to our discount courier program, we offer many other services.
Your shipping is our priority
FlagShip is committed to the betterment of our customers' businesses by providing an easy, stress-free shipping experience at just the right price. We are here to work with you, and make shipping easier for you, so you can focus on what is really important: your business.
How to get started
Sign up for your no-obligation, no minimum account – it's free and you can get started now!
Have questions or would like a quote on Vancouver shipping services? Contact us at 1-866-320-8383 or email
sales@FlagShipcompany.com