Shipping from Canada to Australia
A simple guide to help you ship your products to Australia quickly and easily

At FlagShip, we strive to make sure our policies, information and guidelines on our website are as accurate and up-to-date as possible. However, we are not customs brokers and this information is to be used as a guide. PLEASE consult your customs broker directly before shipping as customs laws and procedures often change without warning. 
For many Canadian businesses who ship products from Canada to Australia, securing an efficient and cost-effective courier service is critical to business success. At times, the process and paperwork may seem daunting but don't worry; FlagShip has years of experience.
We've created easy-to-follow guidelines to help you navigate through shipping from Canada to Australia with our shipping service.
At FlagShip, our dedicated team can facilitate all your Canada to Australia shipping needs, here are just a few of the ways we can help:
All our information is compliant with the Australian Trade Commission, Government of Canada and other government resources to ensure we are up-to-date on all rules and regulations.
Everything you need to know aBout shipping TO AUSTRALIA FROM Canada
Courier rates to Australia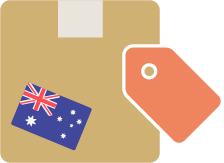 What are you shipping from Canada to Australia?
FlagShip is ready to help you deliver your shipment to Australia easier, faster and hassle-free. Here are some examples and guidelines for common products to simplify your shipment processing.
To learn more click on any of the following:
Special stipulations on the following commodities
There are special stipulations on the following commodities when shipping to Australia. If you plan to ship one of the commodities listed below, be sure to adhere to the following stipulations in order to avoid delays and holds at customs.
Prohibited & Restricted Items
The Australian Government prohibits the import and export of certain goods to and from Australia. You can access the list of prohibited items based on the Australian Border Force for shipping from Canada to Australia – click here for the complete list of prohibited goods. It's important to keep in mind that this list is always changing, so it's always best to check back at the time of shipping.
The Australian Government prohibits the import and export of certain goods to and from Australia. You can import or export most prohibited goods with written permission, provided you meet certain conditions and requirements. Some goods are under absolute prohibition, where you are not allowed to import or export the goods in any circumstance. See the list of prohibited goods here: List of prohibited items
Some prohibited items to highlight:
Alcoholic Beverages
Import of Alcoholic beverages into Australia is permitted via ISC contract service.
UPS only delivers to New South Wales, Victoria, Australian Capital Territory, South Australia, Western Australia and Tasmania.
UPS cannot deliver to Queensland and Northern Territories due to certain communities local alcohol regulations.
Importation of Alcohol products to Australia does not include the de-minims value rule, All Alcohol products are subject to high rates of duties rates (excise and WET tax) and GST upon importation at Australian Border regardless of the importation value declared.
UPS requires the alcoholic percentages of the products to be declared on the commercial invoice with Consignor / Consignee sale transaction.
Electrical Equipment and Machinery
An "Electromechanical Device" greater than one kilogram in weight that incorporates an electric motor, must not be brought, into Australian territory If it has originated, transited or transferred through, the Republic of Turkey.
Electronic Cigarette / Vaping Product
Can only be shipped with an International Special Commodities (ISC) contract.
Can only be imported into Australia for personal consumption only-not for commercial purposes. For more information on personal consumption click on the following link: http://www.tga.gov.au/consumers/personal-importation-scheme.htm
If E-Cigarettes are detected at the border appearing to make a therapeutic claim, the goods may be referred to the Therapeutic Goods Administration (TGA). The TGA will advise whether further action is warranted, whether any claims made are classed as therapeutic, and whether seizure is appropriate under their Act.
If no therapeutic claim is made, or the TGA determines that no action is warranted, the goods are released, as they are not controlled on importation.
The onus is on the purchaser of goods from offshore websites to ensure that any goods they purchase are legal to import and possess under Commonwealth and State and Territory laws.
Goods of this nature are not tobacco or tobacco products, and therefore are not subject to duty or GST if the Customs value is at or below the low value goods threshold of A$1,000.
YOU SHOULD KNOW THAT:
Prohibited goods are destroyed.
If the goods require treatment against a biosecurity threat, then $75 AUD (about $70 CDN) per item will be charged to the importer.
If the goods are returned to Canada, then $95 AUD (about $90 CDN) per item will be charged.

All our customer service representatives (CSRs) are live every day during 8:00am – 5:00pm EST to help with all your questions about shipping from Canada to Australia (and other destinations around the world)! They are trained, certified and experienced in international shipping business procedures.
Special Clearance Requirements
For goods with a value of AUD1000 or less
There are generally no duties, taxes, or charges to pay at the border for any shipment value of AUD 1000 or less. However, From 1 July 2018, the Goods and Services Tax (GST) may be collected by overseas vendors of such low value goods when imported from overseas by consumers in Australia. GST will be charged at the point of sale and not at the border.
For goods with a value over AUD1000, you will need to fill out an Import Declaration, and pay duties, taxes and charges at the border. You will need to pay duties and taxes on some goods (like tobacco or alcohol) regardless of their value. Tracking your shipments
If you encounter any difficulty tracking your shipment, please to contact us to resolve the problem.
We are there to guide and assist.
Call 1-866-320-8383 or email at support@flagshipcompany.com
Clearance Comments
The Australian Customs Service randomly holds 5 percent of all formal entry shipments for a documentary and physical examination of the goods. This process can cause delays of 24 to 72 hours.
Customs Clearance Process
The Australian Quarantine and Inspection Service screens all goods that are imported into Australia. The shipping documents for all regulated or non-compliant shipments are inspected. Incomplete invoices as well as goods requiring an import permit and inspection are charged an inspection fee. Using the following words to describe a shipment will incur Quarantine inspections and fees: wood, sample, gift, present, sporting goods, used goods, food, and nutritional supplements. Quarantine inspections delay Customs clearance.
Note: All used items are Quarantine inspected.
High Weight with Low Value Imports
Australian Customs will request for Evidence of Money Price Paid (EMPP) if the total weight or number of packages relative to the value declared seems unrealistic. (for example: A shipment with 5 packages of Printed Advertising material that weighs 100 kg and costs $50.00 AUD. If the Advertising material is provided free of charge, the import paperwork must declare the fair market value or actual cost of the goods in the country or territory of export.)
Failure to comply will cause delays.
Import value limits to Australia
Deminimis Value
Private Shipments
1000.00 Australian Dollar (AUD)
With the exception of alcohol, tobacco and prohibited items, when the Free on Board (FOB) value of the shipment is less than the Deminimis Value, the shipment may enter the country or territory duty and tax free.
Commercial Shipments
1000.00 Australian Dollar (AUD)
With the exception of alcohol, tobacco and prohibited items, when the Free on Board (FOB) value of the shipment is less than the Deminimis Value, the shipment may enter the country or territory duty and tax free.
Weight and Size Limits
Maximum weight:
70 kg (150 lbs.) per package
Maximum length:
274.00 cm (107.9 in.) per package
Maximum dimensions:
419.10 cm (165.0 in.) per package
Length and girth combined
How do I use a tariff code?
Can I ship medication?
The importation of medicines into Australia is regulated under the "Therapeutic Goods Act". If the medicines are not registered with the "Therapeutic Administration" then they are not permitted entry into Australia. Permits to import are required for certain goods such as steroids.
Personal imports of prescription medicines can be imported if the importer is a person, the supply is for less than 3 months and they have a prescription from an Australian doctor.
What happens if items are of Taiwan origin?
Increased quarantine measures are being applied for products produced in Taiwan as a result of the confirmed outbreak of Foot and Mouth Disease.
Import Permits and applications for products with more than 10% of dairy content; semen, embryos and other biological products of susceptible species are to be assessed and appropriate measures or suspension in line with new requirements as a result of the outbreak will be imposed. All affected business will be informed of changes affecting their Import Permits.
Further, import for the following products will be assessed on a case by case basis depending on manufacturing processing and other treatment being sufficient to manage the risk of Foot and Mouth Disease:
Used farming equipment
Saddlery, harnesses & tacks
Scoured wool, animal hair and leather products
Processed canned and dried pet food
Biological Products from non-susceptible species
Processed meat of dairy products (for example, chocolate and confectionary, highly processed cheese; shelf stable hermetically sealed/retorted meat and dairy products)