Shipping from Canada to China
A simple guide to help you ship your products to China quickly and easily

At FlagShip, we strive to make sure our policies, information and guidelines on our website are as accurate and up-to-date as possible. However, we are not customs brokers and this information is to be used as a guide. PLEASE consult your customs broker directly before shipping as customs laws and procedures often change without warning. 
For many Canadian businesses who ship products from Canada to China, securing an efficient and cost-effective courier service is critical to business success. At times, the process and paperwork may seem daunting but don't worry; FlagShip has years of experience.
We've created easy-to-follow guidelines to help you navigate through shipping from Canada to China with our shipping service.
At FlagShip, our dedicated team can facilitate all your Canada to China shipping needs, here are just a few of the ways we can help:
All our information is compliant with the Canadian Government Trade Commission and other government resources to ensure we are up-to-date on all rules and regulations.
Everything you need to know aBout shipping FROM CANADA TO CHINA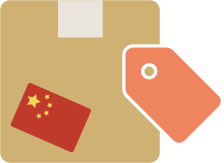 What are you shipping from Canada China?
FlagShip is ready to help you deliver your shipment to China – easier, faster and hassle-free. Here are some examples and guidelines for common products to simplify your shipment processing.
NOTE: There are special stipulations on commodities when shipping to China. If you plan to ship one of the commodities listed below, be sure to adhere to the following stipulations in order to avoid delays and holds at customs.
To learn more click on any of the following:
Samples of Detailed Merchandise Description
This is a chart sharing what should be indicated on the commercial invoice if sending the specific articles noted below.
| | | |
| --- | --- | --- |
| Main Category | Declaration Elements | Invoice Description Samples |
| Apparel | Brand, weaving method, sort, style, composition, internal packaging | Womens shirt, woven, 100% cotton, Brand  Zara / No brand, packed in bag |
| Shoes | Style, material, brand, internal packaging | Womens boots, cow leather, no brand, packed in box |
| Appliances | Specific description, usage, part number, brand, internal packaging | Household distillation coffee machine, part number 123, no brand, packed in box |
| Tools | Specific description, usage, material, types, brand, internal packaging | Stainless steel household screwdriver, no brand, packed in plastic box |
| Foodstuffs | Specific description, usage, packaging specifications, brand, internal packaging | Infants milk powder, 900g, Brand Abbott, canned packaging |
| Printer | What kind of printer, brand name, model No, internal packaging | Used laser printer, Brand – Epson, Model No. 12345, packed in box |
| Cellphone | Brand, size of screen, internal packaging | Used cellphone, Brand – Apple 7 plus, 5 inches screen, packed in box |
| Integrated circuit | What it is used for, Packed or not, multi-element or not, batch number, mass production or not, brand, internal packaging | Integrated circuit, memory purpose, sealed, multi-element, batch# 123, mass production, brand IBM, packed in box |
Prohibited or Restricted Commodities
Alcoholic Beverages
Antiques
Artwork
Defense Articles/Commodities
Dietary Supplements
Electronic Cigarette / Vaping Product
Gambling Devices
Guns and Firearms
Jewelry
Knives
Lithium Batteries
Military Equipment
Plants
Soil
USB Sticks
Weapons
China Inspection and Quarantine (CIQ) prohibits the following commodities into China:
Pathogens of plants and animals (including fungi and germina, etc.), pests and other hazardous life-forms
Relevant animals, plants, animal or plant products and other quarantinable products from plant and animal disease epidemic areas.
Personal Effects
Personal Effects (for example, unaccompanied baggage) are classified as used items intended for the consignee's personal use. Any items intended for any other use, such as wholesale or retail sales, business purposes, or for distribution are not considered personal effects and cannot be shipped on this basis. "Personal Effects" must be clearly stated on the invoice and goods description. Note: personal effects include items that an individual has owned prior to a foreign travel/trip.
Customers must use an authorized UPS Store, UPS Customer Center or an ISC approved shipper to ship personal effects. The UPS Store, UPS Customer Center and ISC approved shipper will be required to identify personal effect shipments on the shipping label by placing "ISC-Personal Effects" in the Reference Field of a UPS "smart" label or in the Special Instructions Field of a UPS waybill. They must also clearly indicate 'Personal Effects' shipment on the Commercial Invoice.
The customer is required to submit their passport, visa, & proof of entry to China (with arrival stamp on passport), an invoice with detailed itemized descriptions, value, freight & insurance & Explanation Letter of Import Purpose. With the above information, UPS China Brokerage will complete & submit Personal Import & Export Declaration Form to China Customs. China Inspection & Quarantine Bureau may require an inspection on shipment. Duties & taxes may be assessed by China customs and the shipment may experience transit delays and China customs may request physical inspection of the shipment.
Prohibited articles listed in the UPS service guide cannot be accepted as personal effects.

All our customer service representatives (CSRs) are live every day during 8:00am – 5:00pm EST to help with all your questions about shipping from Canada to China (and other destinations around the world)! They are trained, certified and experienced in international shipping business procedures.
In addition to the commercial invoice, a packing list must be provided by the shipper, which is required as a formal entry shipment.
Formal entry shipments are shipments that require import license/permit/quota/special clearance documents; and/or CIF (Cost, Insurance and Freight) value is above RMB 5000.
All bonded transfer shipments (import and export) at Zhengzhou, Xian and Wuhan require packing list.
Power of Attorney
All non-document shipments entering into China require a Single Entry Power of Attorney. There's no blanket POA allowed. Only documents are exempt.
Postal code finder for China Tracking your shipments
If you encounter any difficulty tracking your shipment, please to contact us to resolve the problem.
We are there to guide and assist.
Call 1-866-320-8383 or email at support@flagshipcompany.com