Shipping from Canada to the U.K.
A simple guide to help you ship your products to the U.K. quickly and easily

At FlagShip, we strive to make sure our policies, information, and guidelines on our website are as accurate and up to date as possible. However, we are not customs brokers, and this information is to be used as a guide. PLEASE consult your customs broker directly before shipping as customs laws and procedures often change without warning.
For many Canadian businesses using a courier service, shipping products efficiently and safely from Canada to the U.K. is vital for them to thrive. Sometimes, the process and paperwork may seem daunting but don't worry; FlagShip has years of experience.
We've created this simple guide to help you navigate through shipping from Canada to the U.K. with our courier service.
At FlagShip our dedicated team can facilitate all your Canada to U.K. shipping needs, here are just a few of the ways we can help:
All our information is compliant with the UK Border Force, the UK Department for International Trade, and other government resources to ensure we are up-to-date on all rules and regulations.
Everything you need to know aBout shipping TO the U.K. FROM Canada
Courier rates to the U.K.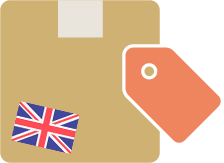 What are you shipping from Canada to the U.K.?
How to ship the following:
Prohibited & Restricted Items
This list of prohibited items is based on carriers and customs for shipping from Canada to the U.K.  It's important to keep in mind that this list is always changing, so it's always best to check the official customs restrictions page here.
There are some goods you cannot bring into the UK – they'll be seized by customs.
Controlled drugs
Offensive weapons, for example, flick knives
Self-defense sprays, for example, le pepper spray, and cs gas
Endangered animal and plant species
Rough diamonds
Indecent and obscene materials, such as books, magazines, films, and DVDs
Personal imports of meat and dairy products from most non-EU countries
Restricted Items:
A restricted item is something that requires a special license from the federal agency before the item is allowed to enter the country. This list is based on carriers and customs for shipping from Canada to the U.K.
Some of the restricted goods are:
Firearms, explosives, and ammunition. You will need a special license to bring them into the UK.
Shipment containing bladed items/possible cutlery or being suspected to contain bladed items/cutlery, are now restricted for import to the UK.
Some food and plant products are also restricted if they:
are not free from pests and diseases
are not for your use
were not grown in the EU
If you bring goods suspected of infringing intellectual property rights (for example 'pirate' copies of movies or music) they may be seized, and you could be prosecuted.
In addition to the prohibited commodities listed here, it is prohibited to ship the following commodities to United Kingdom.
CHECK IF YOU NEED A CITES PERMIT
You'll need to apply for a permit or certificate if you're bringing items protected by the Convention on International Trade in Endangered Species of Wild Fauna and Flora (CITES) into the UK.
This includes certain foods and beauty products, exotic leather goods, furs, wooden musical instruments, tourist curios, and some medicines.

All our customer service representatives (CSRs) are live every day during 8:00am – 5:00pm EST to help with all your questions about shipping from Canada to the U.S. (and other destinations around the world)! They are trained, certified and experienced in international shipping business procedures.
Documents, Forms and Certificates
For each type of product, there is usually some paperwork to fill out. Review the list below to find out what documentation you'll need for your product shipped from Canada to the U.K.
Commercial Invoice – When creating your Shipment in the FlagShip online system, we automatically generate this invoice for you.
CERS (replaced the B1 declaration form) – All Canadian exporters that ship outside of North America must report exports and submit summary reports electronically through either the Canadian Export Reporting System (CERS) or the G7 Export Reporting Electronic Data Interchange (G7-EDI). Click here to learn more.
How to get started on the CERS? Before you can register and access the CERS Portal, you must apply to become a portal client. You can apply to become a portal client by downloading the application found on the CERS site and submitting it by email to: cbsa.export program-programme_exportation.asfc@cbsa-asfc.gc.ca
Certificate of Origin (COO) – This document is important because Canada has a trade agreement with the UK which allows a reduced or zero-rated import duty.
ATA Carnet – ATA Carnet is an international customs document that permits duty-free and tax-free temporary import of goods for up to one year) and it is accepted in 176 countries worldwide. Tracking your shipments
If you encounter any difficulty tracking your shipment, please to contact us to resolve the problem.
We are there to guide and assist.
Call 1-866-320-8383 or email at support@flagshipcompany.com
When sending a parcel from Canada to the UK, you will have to be aware of customs checks. Any items sent from outside the EU to the UK must be posted with documents disclosing what is being sent and its value
As a business you need an EORI number that starts with GB to import goods into UK (England, Wales or Scotland) You'll need a new one if you have an EORI that does not start with GB.