eCommerce Shipping Companies | FlagShip Canada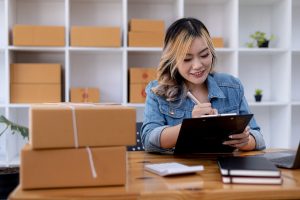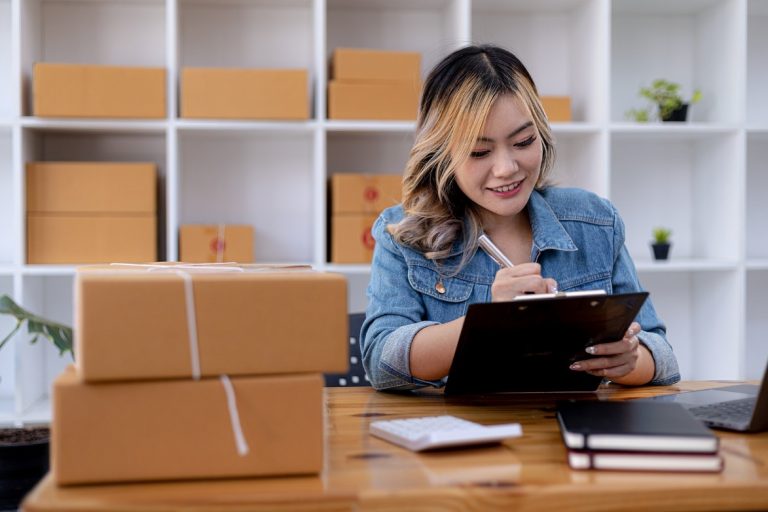 Your online store is an essential part of your business. You want to ensure the entire online experience is easy and streamlined for your customers. You already have an eCommerce platform that makes it easy to sell your goods, but shouldn't it be just as easy to ship them?
eCommerce shipping is an integral part of your success. Getting the product from your warehouse to the customer is essential to the process. It's the point where a customer finally experiences your product in person. However, eCommerce shipping is also a significant expense.
At FlagShip, we are all about finding ways to save you time and money and give your customers an outstanding shipping experience. To know what makes eCommerce shipping the best it can be, here is everything you need to know about what to look for in a shipping provider to deliver that first-class experience to your clients.
What is eCommerce shipping?
eCommerce shipping is key to your online success. It's about moving from the online order to getting your product to your customer's home. It sounds simple, but there is a massive amount of logistics.
You have to ensure a process for order receiving, processing, and fulfillment. On top of that, the customer expects shipping to be fast, affordable, and on time. If it does not meet these parameters, you will see abandoned carts and decreased conversions.
As a small business, you will want to find the right partner to make your shipping manageable, affordable, and fast.
Which is the best delivery partner for eCommerce?
You want a competitive advantage—eCommerce shipping is one of them. According to research, almost 50% of abandoned carts are because extra costs like shipping are too high. In the age of Amazon Prime, fast and affordable shipping isn't a bonus; it's a necessity.
You need to stand out. You want a trusted partner that will give you quicker shipping rates at a better cost. So who are the eCommerce shipping companies your can trust, and what can they offer you?
Four areas can differentiate you from your competitors: price, flexible delivery options, reliability, and seamless software integration. Here's why they matter.
Cost of Shipping
This one goes without saying. Customers want the cheapest delivery rate possible. You want to give it to them but are unsure which shipping partner can provide you with the best rate.
Shipping costs are not a one-size-fits-all approach. The cost of each order varies depending on factors like package dimensions and weight, the destination, and the service provider. You can give your customers options by displaying real-time carrier rates at checkout.
At FlagShip, we can automatically pull the real-time rates from multiple carriers, allowing your customers to choose from the best possible rates. We give you access to volume discounts that are typically reserved for higher volume shippers. This volume discount can save you up to 70% on your shipping costs.
So no matter if you're a solo entrepreneur in a small town or running an international business from one of Canada's urban centres, you're sure to get a great rate on your shipping. It's easy to compare rates and services from anywhere in the country for domestic and international shipments.
Flexible Shipping Options
Your customers expect several shipping options to get their order to them—the simplest is free in-store pickup. If you have a brick-and-mortar location for your eCommerce business, you can offer free pickup for local clients. This option allows you to cut shipping costs while giving your local customers a simplified process.
Next-day delivery is another option that customers expect. In Canada, Purolator is one shipping carrier that can provide you with next-day delivery. Their QuickShip option gives you the flexibility for next-day delivery up until 9 p.m. It's one of the reasons they are one of our trusted shipping carriers.
Reliability and Tracking
Order completion and customer satisfaction are the primary focus on eCommerce shipping and what you outsource to your shipping partner. Customers want to know their package is on the way and when it will arrive. It is why tracking shipments is so essential.
Give yourself and your clients peace of mind, make sure the shipping carrier has a reliable way to track your shipments, so you know the status of your shipment every step of the way.
Seamless Integration With Your eCommerce Platform
Whichever eCommerce platform you choose for your online store, it needs to integrate with one of the eCommerce shipping companies. It should have integration options for platforms like Shopify, WooCommerce, Magento, OpenCart, and PrestaShop.
Integration allows you to provide your customers with instant, accurate shipping quotes at checkout. This quoting tool means you're giving them instant access to the most accurate rates, encouraging them to "buy now" and avoid abandoned carts.
Not only will you want to provide the lowest price, but you will want support with logistics. You will want software to process shipments instantly, generate shipping labels, schedule pickups, and manage your shipments.
Thankfully, FlagShip's eCommerce integrations do all of this and more!
Choosing FlagShip for Your eCommerce Shipping
When you connect your eCommerce website with FlagShip, you can provide instant, accurate shipping rates to your customers. Let your website do the work for you, automatically processing and organizing your shipments.
No matter what platform your eCommerce website is built on, it's simple to connect it to your free FlagShip account. It is easy to install and configure with your preferences, and once you're connected, the carriers automatically upload shipping data from each customer transaction to the FlagShip online shipping system.
If you have any questions on eCommerce shipping companies, don't hesitate to contact our team at support@flagshipcompany.com or call us at 1-866-320-8383. We would be happy to help with your small business shipping needs!