Packaging and Labeling eCommerce Shipments: 3 Tips for your Business
Running an eCommerce business comes with many complexities, and shipping is a piece of the puzzle that completes the customer experience. If you ship for your business, you can appreciate the significance of properly packaging and labeling your shipments.
Playing a crucial role in the overall success of your eCommerce business, packaging and labeling is the first physical contact your customer has with your product after their online experience with your brand. In this case, the book is indeed judged by its cover!
Now, let's dig into some of the best practices for packaging and labeling eCommerce shipments you can implement starting today:
1. Choose the right packaging materials
Selecting the appropriate packaging materials for your eCommerce shipments is crucial to ensure they are safely protected during transit, avoiding unwanted damages and returns. Consider the nature of the product you are shipping and choose packaging materials that provide adequate protection. When packaging fragile items, choose cushioning materials such as bubble wrap or foam inserts. For lightweight products, consider using padded mailers or poly mailers. To further showcase your eCommerce's commitment to environmental responsibility, choose sustainable packaging materials such as recyclable or biodegradable packaging options.
2.  Optimize your eCommerce package size and weight
More than protecting your eCommerce package, you can easily save money by using efficient packaging techniques, tools, and materials. For example, to reduce dimensional weight charges and save money on shipping, try substituting big boxes with adjustable boxes or custom-fit packing solutions.
Some courier companies, such as UPS Canada, offer free shipping supplies like packages, pouches, and labels. This is a great solution if you are a small eCommerce owner and are looking to reduce your eCommerce shipping costs.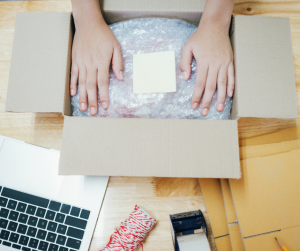 Another great way to optimize your packaging for eCommerce shipments is using a user-friendly online tool such as FlagShip's Optimal Package Finder.  This packaging optimization tool calculates the optimal box size for your shipments, helping you save time and money when shipping your eCommerce packages. Discover more tips to save on shipping for your business
 3. Secured and appropriate labeling
Processing your shipments with FlagShip ensures the label generated for your eCommerce shipment is not forgetting all the important details to guarantee your eCommerce shipments run smoothly. Your shipping label will include the essential information such as the shipper and receivers name and shipping address, SKU on the label for processing by the courier and for tracking purposes.
Once you receive the digital file for your shipping label, print it off and secure it with packing tape on your shipping box. Each box within your shipment requires a shipping label.
FlagShip optimizes your shipping processes by as replacing handwritten labels with automatically generated shipping labels. With FlagShip's eCommerce shipping solution, you can generate shipping labels automatically without worrying about missing crucial labeling details.
Streamlining your eCommerce shipping logistics will save you time so you can focus on growing your business!
Conclusion:
While your packaging and labelling play an important role in protecting the product throughout its shipping journey, they also effortlessly speak about your eCommerce brand's quality and professionalism. The presentation of your eCommerce packaging has the potential to grab your customer's interest even before they get a glimpse of what's inside.
Ensuring that the packaging is visually attractive, and on-brand is therefore crucial. Always take into consideration the type of product you are shipping before choosing the packaging. Avoid oversized boxes and use adjustable packaging that will help you save up on shipping costs. If sustainability is one of your eCommerce's core values, consider implementing sustainable packaging initiatives, your customers will also value your brand's efforts. Finally, enhance your eCommerce packaging and labeling efforts using FlagShip's easy-to-use and effective eCommerce solutions that will help your eCommerce save valuable time and money.
*BONUS TIP*
A well-packaged and labeled product can also have a direct impact on your cost optimization and sustainability initiatives. By reducing the size and weight of shipments, you not only reduce your shipping costs but also contribute to minimizing waste.
As a FlagShip Customer, if you have any questions regarding how to package your shipment or the best way to label your eCommerce shipments, don't hesitate to reach out to our support team at support@flagshipcompany.com or call us at our toll-free number 1-866-320-8383. We would be more than happy to help with your eCommerce shipping needs.