How-to Package and Ship Fragile Items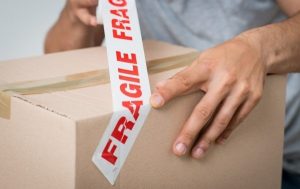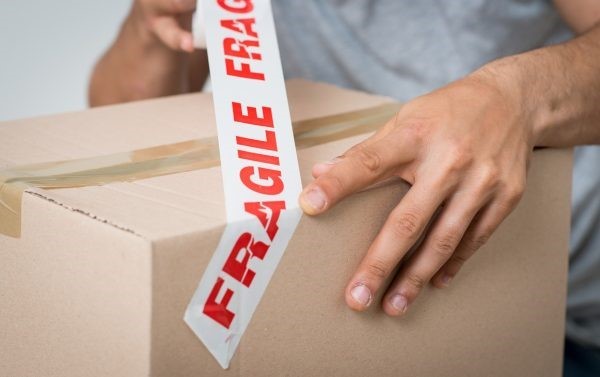 For businesses new to shipping, the process can sometimes feel overwhelming. Then, add in a layer of learning how-to ship fragile items, for the process to begin to feel complicated and stressful. If you or your small business plans on shipping fragile items, whether it's domestically or internationally, then you need to be able to pack your fragile items properly and get them ready to be shipped safely. Even though fragile items may seem complex to ship, Flagship's online shipping system makes the process easy and simple, walking you through all the necessary steps.  
What are Fragile Items?  
Before you even want to learn how-to ship fragile items, you may be asking, "What is classified as a fragile item?", when it comes to the world of shipping. Fragile items are any items that can be easily broken, shattered, or damaged; they can be delicate; brittle; frail etc.  Examples of such items are glass items, laboratory materials, musical instruments, technological accessories, marble, tiles, porcelains, optical instruments, and valuable collectibles. Fragile items require special storage and solid packaging due to their fragile nature. 
Tips on How-to Pack and Ship Fragile Items, Properly! 
We have 6 important tips to help you with making sure your items are properly packed and ready for shipping:  
1.  Use a shipping box that is slightly bigger than the item(s) you are shipping   
You don't want to use boxes that have too much space in them, because they can allow the item to move around during transportation. Using a box that's slightly bigger than the product allows any remaining empty space to be filled with dunnage (solid plastic, bubble wraps, air pillows, shredded cardboards, packaging peanuts, steel, corrugated paper, molded foam) to keep everything in place. 
While poly bags can be cheaper to ship than boxes, they are not a very good choice for fragile or breakable products as they can be destroyed easily. While there are poly bags that come with bubble wrap padding, they do not eliminate breakage of fragile items.  
2. Wrap the item in supporting material  
If your items aren't manufactured with supportive packaging and are stored loose, then you will need to wrap them in a lot of dunnage.  
3. Only, if necessary, wrap the item in foam  
For very expensive or fragile items, you may want to make a foam wrap for the package that is molded to its specific measurements and shape.    
4. Use air pillows or packing peanuts  
If there is empty space in the box, you could also fill the space up with airbags, packing peanuts, or crinkle paper.   
5. Add the "fragile" sticker  
Adding a fragile sticker or label will let the shipping company know that the box needs to be handled with extra care. You may also use multiple stickers to make certain it's seen. Using a fragile sticker may add a shipping surcharge from the courier for manual handling.  
Please note that if the carrier deems your package to be fragile, they will not place it on the conveyor belt system at the depot and it will be passed by hand.  This will incur an additional fee of approximately $25.00 per box and we will not be able to request a credit for this charge.  This charge is often, but not always added when a fragile sticker is applied.
6. Pre-Alert Carriers When Processing Your Shipment
With FlagShip you can request "special handling" for your fragile shipment with a click of a button which alerts your chosen courier that your item requires extra care in transit, although this will incur additional fees.  
Always prepare your items for shipping in the proper packaging using the right materials for fragile items and take extra care (don't rush!) when assembling the shipment. Without it, you run the risk of damaging your fragile items, which in turn impacts your revenue, and no business wants that.  
Insurance for Fragile Shipments 
Insuring your fragile items is something we highly recommend since incidents can happen any time, even with the most professional and reputable carriers. Shipping carriers often provide a very basic shipping insurance plan where the carrier's maximum liability for uninsured package(s) is $100.00 CAD. While carriers do offer their own full insurance coverage, it comes at a much higher premium. FlagShip is committed to making your small business shipping easy, cost-efficient, and stress-free. That is why we have our own in-house insurance at a much lower rate.  Click here to learn about our shipping insurance and what items can be insured. 
FlagShip offers great solutions for shipping fragile items both domestically and internationally with in-depth guidelines for packaging as well as helping you compare rates which make your shipping experience easy, cost-effective, reliable and fast thereby saving you time and money.
Shipping and Parcel Packaging: What are my options?
Packaging your Shipment – 3 Tips to Save You Money
Select the Proper Packaging to Lower your Shipping Rate
How to Ship a Package for Cheap
Additionally, you can have shipping experts tailor a shipping experience to fit your eCommerce needs and give you the best service support you will ever experience.   
Sign-up for a  free account today to see how easy it is to FlagShip it.   
If you have any questions on how-to pack and ship fragile items, don't hesitate to contact our team at support@flagshipcompany.com or call us at 1-866-320-8383. We would be happy to help with your small business shipping needs!