Safe, stress-free shipping for your jewellery
FlagShip and Jewelers Mutual Group have collaborated to give you peace of mind with every jewellery shipment that leaves your store. Get a convenient, online shipping solution that saves you time and money with trusted carriers. Plus, you'll benefit from the right insurance coverage for every piece and Jewelers Mutual's superior claim service.
Discover how FlagShip simplifies shipping for Jewelers Mutual customers:
Online shipping system
Compare rates from leading couriers, print your shipping label and track your package all with a few clicks
Competitive rates
FlagShip works closely with partnering carriers to secure the best rates
Hands-on support
We are your single point of contact for updates and help every step of the way
One consolidated invoice
Receive all of your courier charges on a single invoice
SAVE UP TO

70%

ON YOUR JEWELLERY SHIPPING
Our strong partnerships with leading couriers ensure you get the best shipping rates, services and support. FlagShip is an authorized reseller for:

Insurance coverage
Jewelers Mutual was founded by jewellers for jewellers, which means we love jewellery as much as you do. We provide the coverage you need, when you need it, while giving you peace of mind that your package is being protected by the experts who've been protecting jewellery businesses since 1913. If you experience a claim, we deliver on customer satisfaction with a process centered around ease and efficiency. We wouldn't have it any other way.
How shipping with FlagShip works
Once you've registered your free FlagShip account, you can manage all of your shipping functions from an easy-to-use online dashboard:
Create and log in to your free FlagShip account
Enter your shipping information on the New Shipment page
Choose your shipping rate and service from a list of couriers
Print your documentation and labels
Schedule a pickup with your selected carrier
Track your package to its destination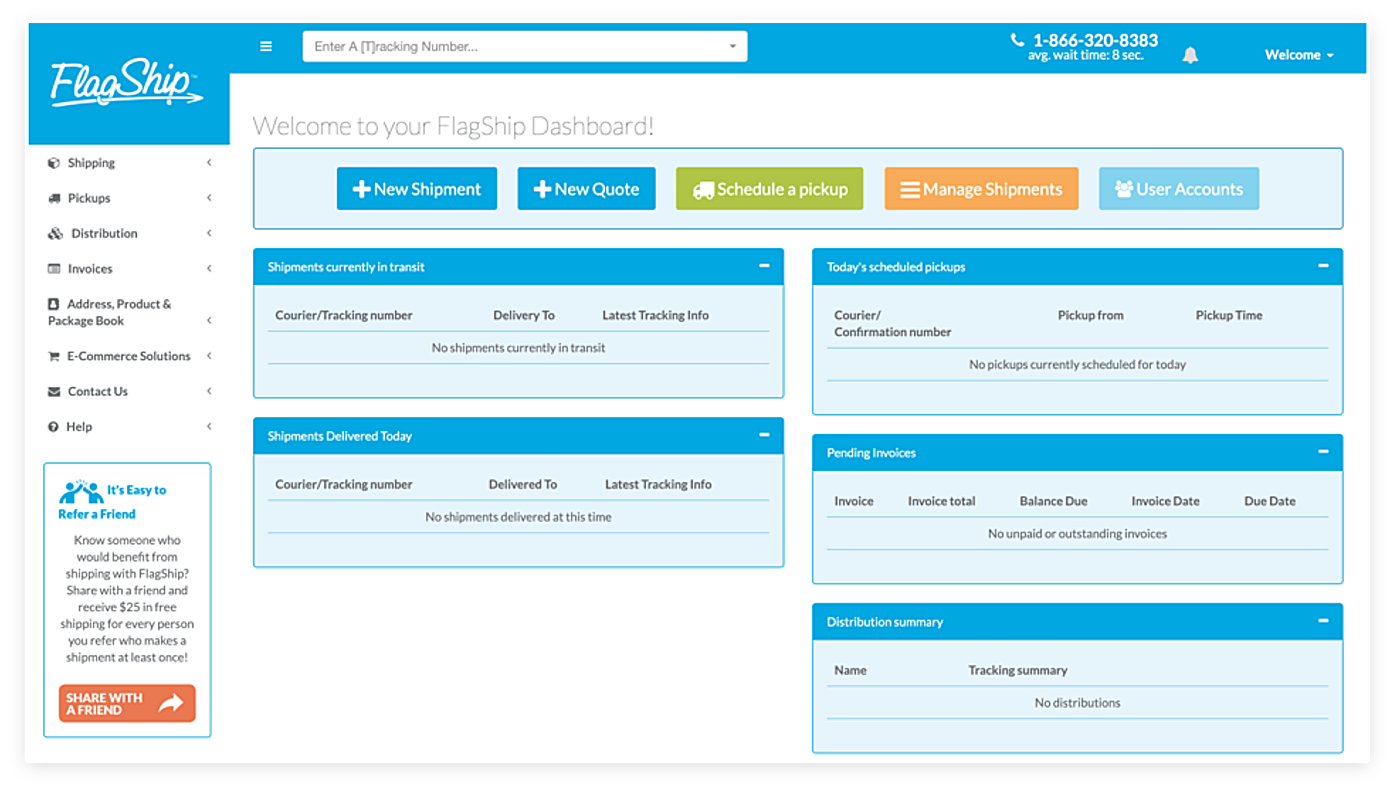 Don't forget to add your insurance coverage from Jewelers Mutual
Declaring content value at the time of label creation is all you need to do. Insure the full package value or enough to supplement your block policy deductible.
We pride ourselves on being jewellery insurance experts. Take comfort knowing your packages are protected by the only insurer in the United States and Canada solely dedicated to the jewellery industry for over 100 years. Simply choose the right amount of coverage and we'll protect your shipment while it travels to its destination.
Frequently Asked Questions
Can I see the expected transit time when processing a shipment?
Yes, FlagShip's online shipping system offers transit times for all shipments except for FedEx shipments that are delivered outside of Canada. If you require assistance with this type of transit time, please contact FlagShip customer support at 1-866-320-8383 or support@flagshipcompany.com.
How do I schedule a pickup?
A pickup is automatically scheduled with the courier you select for your shipment. If for any reason you do not want a pickup automatically scheduled, you must uncheck "I want to schedule a pickup for this shipment" in the OPTIONS section when processing your shipment.
How do I print the shipping label?
Once your shipment is "Confirmed", you will be able to download your shipping label for printing. You can print the label on a regular sheet of paper or a specific thermal label printer, then affix the label to your package.
How can I track my shipments?
A tracking notification email is sent automatically if your email is indicated in the "Ship From" section. You can also go to "Manage Shipments" then select the shipment you want to verify and click on the tracking number. By clicking on the tracking number, you will go to the courier website where all the tracking details will be available.
Can I ask for a signature upon delivery?
Yes, absolutely, you can create a return shipment and label up to seven (7) days in advance. Simply "Swap" your address to "Ship To" and enter the sender's address and info in the "Ship From" section. Once the courier service is confirmed, simply email the shipping address label to the shipper via your FlagShip screen.
Who do I contact if there is a problem with my shipment?
Any time you have an issue with any shipment, always call FlagShip customer support and not the couriers directly. Our representatives will be able to answer any questions that you may have as well as contact the couriers directly on your behalf if necessary.
FlagShip customer support: support@flagshipcompany.com  / 1 866-320-8383.
What type of insurance coverage is available when shipping my jewellery?
All your shipments have the option of being insured right when you are creating your shipment with FlagShip. If you take insurance on your shipment, it will be covered by the Jewelers Mutual Insurance Company (JMIC) at a cost of $0.30 per $100 of declared value with a minimum cost of $3.00. Please view our Terms & Conditions for more details.
How would I submit an insurance claim?
All claims must be forwarded to FlagShip. This can be done one of two ways: either online through your FlagShip account or by contacting FlagShip customer claims support at claims@flagshipcompany.com / 1 866-320-8383.
Can I insure my block deductible via the FlagShip platform?
Yes, absolutely. When processing your shipment, simply add the deductible value when you are prompted to select insurance on your shipment.
Shipment Payment & Invoicing
Who and how do I pay for my shipments?
You will pay FlagShip directly for all shipments processed with FlagShip. At the time of creating your first shipment with FlagShip, your credit card information will be requested and kept on file for future shipments.
When do I receive an invoice?
Once a week, on Friday night, you'll receive one consolidated invoice for your shipping activity. Your invoice will show an overview of your shipments and their associated charges; along with a link to view the invoice and detailed charges in your FlagShip account. You can access your invoices at any time in your FlagShip account. Simply log in, then click Invoices > View Invoices from the sidebar menu.
Why do I have a surcharge to pay?
Differences in price can be a result of a multitude of issues such as weight correction fees or address correction fees. If you ever have any questions regarding your invoices, you can always contact our Customer Service Team who will be more than happy to assist you.
How to get started
Sign up for your no-obligation, no minimum account – it's free and you can get started now!